Adult Piano Lessons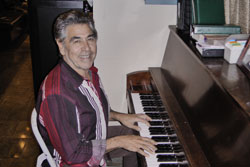 Yes, there is a way.
You can learn to play the piano, now, today.
Did you always want to study the piano?
Was this a lifelong dream?
You can filfull this dream, today.
Did you start to study the piano as a child until adult comittments stepped into your life?
It"s time to pick up the drearm, and continue where you left off.
My goal is to take a journey of discovery with you into the world of music.
What will you learn?
* How to approach the piano.
* How to read music and understand the meaning of musical terms.
* The steps needed to learn a new piece of music.
* The basics of music Theory.
* How to practice effectively and efficiently.
* How to enjoy the process of learning a new piece of music.
These skills will give you the knowledge, technique, and confidence needed to play the piano. You can't change the past, but you can make a new beginning, today. We also offer Adult Piano Lessons in Manhattan area today. Contact me now!
-
Adult beginners often have great difficulty finding a piano teacher, especially if they are serious about music. Teachers who prioritize "fun" do not satisfy us, and those who are serious about their craft do not take us seriously. Ms.Natalya however breaks the mold. In addition to her superlative training, she is highly dedicated teacher with enough flexibility to accommodate any student needs. Her command of the classical repertoire is superb, but she is equally fluent in jazz music and more contemporary works. In my first year of weekly lessons, I was introduced to basic technique, posture, sound production, phrasing and expressivity. But most importantly, I played beautiful music and not method book tunes. Ms.Natalya maintains very high standards but cares deeply about ensuring the growth and progress of all her students. I feel very fortunate to have found her.
~ V.S.T.
-
I feel fortunate to have Ms. Natalya as my piano teacher. Over the past year and a half she has helped me to make good progress in my studies, despite a demanding full-time job. I am gaining a solid foundation that will enable me to more fully appreciate music throughout my life. Through her patience and dedication I have achieved greater skill in and enjoyment for piano playing than I had every possibly hoped for.
~ Anna T.
-
I began to study the piano as an adult with a different teacher. When I began to study with Natalya, I had a poor technique and had to re-create my approach to the piano from square one. Natalya focused on this tirelessly, and eventually I learned new and better ways of playing. Beyond technique, though, she always insists, in one of her often-repeated phrases, that I "make it beautiful!". Her focus is always on getting the student to express the musical ideas contained in a piece. The lessons are always enjoyable, often downright fun. Natalya passionately loves music and especially the expressive qualities of the piano. She works tirelessly to help her students reach the highest level of musicianship of which they are capable. Thanks to her the piano has become a major aspect of my life, and one I know will continue as long as my fingers can still strike the keys.
~ Donald C.